OwnerBuilder-forsale.com
Advertising Industry: Real Estate Sector
"Increasing the Value of the Classified Ad"
White Paper release: November 2005
"Increasing the Value of the Classified Ad" is the first of several white papers to be released by Marketingweb.com detailing the For Sale by Owner or "private party" real estate market. The papers are based on the analysis of data obtained through OwnerBuilder-forsale™, a four and a half year research project conducted by Marketingweb.com from January 2001 to August 2005.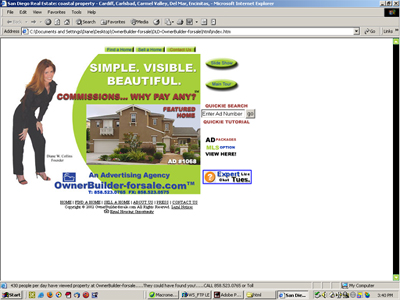 IE Screen Capture
---
SITUATION: Large advertising entities have painted themselves into a corner with regard to real estate classified advertising. These entities have catered to the realtor market providing realtors with better advertising tools and coverage. Reason? Realtors purchase more expensive ads and offer repeat business. Not exactly rocket science.
CHALLENGE: Paradigm shift. The incredible growth in home values has made a six percent real estate commission significant capital. Recent research has shown that 80% of those who wish to sell their homes plan to try to sell them first as a For Sale by Owner in an attempt to save the commission. Recent interest rate increases and overall changes in the economy have renewed fears of a housing market bubble burst. This has intensified not only the owner's desire but his/her need to preserve equity during a sale. This means there will be an increase in the placement of private party classified ads. Further, the more "upside down" the markets tend to become the less commission realtors will be able to charge. A direct inverse relationship to private party classified ads will be seen in the reduced placement of realtor ads as realtors rely more heavily on the Multiple Listing Service (MLS). Translation: More classified ads... less profit.
An opportunity exists to greatly increase classified ad market share and revenue through the addition of properly formulated online advertising programs sold in conjunction with the print classified ad. The caveat? Offering private parties better tools with which to sell their own homes could alienate the realtor and immediately reduce current market share. How do you manufacture a situation that allows the large advertising entities to "have their cake and eat it too?" Current efforts to accomplish this executed by online factions of radio, television, and newspapers have not been successful.
SOLUTION: Marketingweb.com currently offers consulting services to newspapers who wish to develop their corresponding online advertising channel revenues. The Marketingweb.com white paper entitled "Increasing the Value of the Classified Ad" is specifically aimed at helping newspapers and magazines maximize their private party real estate classified ad revenue while protecting their current realtor market share. The paper is scheduled for release in November 2005.
BACKGROUND: Marketingweb.com began researching the For Sale by Owner market in January 2001. In 2003 based on two years of preliminary research, Marketingweb.com launched OwnerBuilder-forsale.com™, a prototype "For Sale by Owner" advertising agency utilizing traditional and online advertising capabilities and a "neighborhood" strategic partner network. Marketingweb.com ensured that the prototype respected the legal distinctions required to qualify as an advertising agency versus a "realtor". The concept was introduced within a restricted territory that offered a diverse range of home values, target demographics / psychographics, and a highly saturated realtor market.
Marketingweb.com concluded prototype research in August 2005. Since that time, Marketingweb.com has reviewed the data to determine best customer, service model / pricing, and has analyzed competitor response / change mechanics. Several white papers will be released based on this four and a half year research project.
**White papers are available to clients only and require a current consulting contract. If you have an interest in becoming a client, please contact Diane W. Collins, Founder - Marketingweb.com.
Contact information is listed below.
*************
For Further Information:
Advertising Industry: Real Estate Sector
"Increasing the Value of the Classified Ad"
Contact: Diane W. Collins, Founder
Company: Marketingweb.com
972.346.7272 tel
dcollins@marketingweb.com
Press Release: October 31, 2005